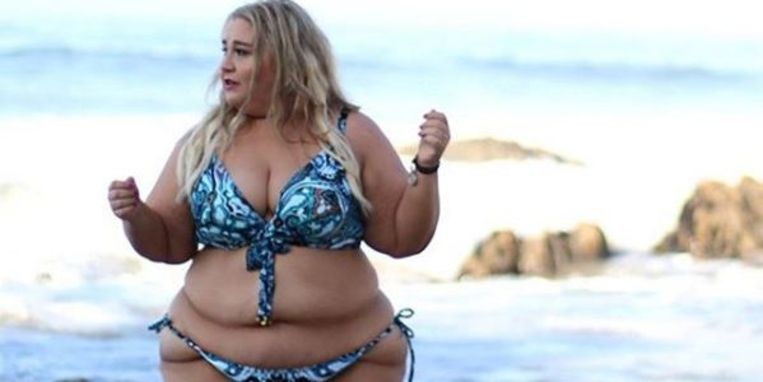 Waarom Sarah (38) na 25 jaar weer een bikini draagt
Na 25 jaar was Sarah (38) het zat: haar lichaam verhullen en zich zorgen maken over wat anderen van haar denken. Dus besloot het plussize-model tijdens een zomerse fotoshoot eindelijk weer eens in bikini te gaan en af te rekenen met haar onzekerheden.
Krachtige boodschap: houd van je lijf
De Amerikaanse Sarah Sapora kreeg afgelopen weken heel wat positieve reacties op haar Instagramaccount. Het model besloot zich na 25 jaar letterlijk bloot te geven. Lang durfde ze dat niet, na een ongelukkig moment tijdens een jeugdkamp was Sarah bang geworden voor de reacties van anderen. Bang om in een hokje te worden geplaatst of om te worden afgerekend op wat mensen van haar denken. Ze besloot af te rekenen met het verleden en een krachtig signaal af te geven door zich, in bikini, te laten fotograferen op het strand van Malibu.
Haar boodschap? Houd van jezelf, wees trots op je lichaam en leef je leven zoals jij dat wilt. Ook als je een volle vrouw bent. Wees niet bang voor de blikken van anderen en heb geen angst om te worden uitgelachen. Want uiteindelijk brengt die onzekerheid je niet verder en heb je er niks aan om met angst door het leven te gaan. Of, zoals ze zelf zegt bij een van haar Instagramfoto's:
"We get one turn around this dancefloor, folks. There comes a time in your life when you realize it's time to play the music YOU like, and dance like nobody's watching. Or like everyone is watching."
Het resultaat? Ongelooflijk veel likes en positieve reacties uit de hele wereld, een boost voor Sarahs zelfvertrouwen.
Bron| Lindanieuws
Beeld |Instagram sarahsapora
Lees ook
Deze vrouw bewijst dat je niet slank hoeft te zijn voor yoga
Prachtige badmode voor iedereen!
Bekijk ook
Diny (82 jaar) gaat op wereldreis: 'I am going rond de wurld'